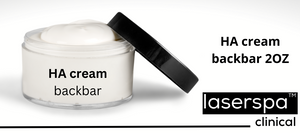 This moisturizer is all natural and scent free containing Hyaluronic Acid to help plump and shea butter to heal and moisturize. Also great as a recovery cream.
2oz (for back-bar use)
Deionized Water, Aloe, Sodium Hyaluronate, Shea Butter, Mango, Sweet Almond Oil, Grape Seed Oil, Glycerin, Stearic Acid, Glyceryl Stearatel, Tocopherol (Vitamin E).