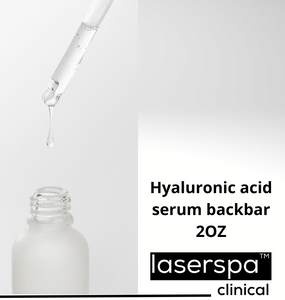 A concentrated Hyaluronic Acid serum. Excellent for aiding in moisture retaining properties of the skin. Suitable for all skin types. The high molecular weight makes it an excellent lubricant for Microneedling treatments. 
Why It Works:
Hyaluronic Acid is a naturally occurring substance found in our body. It has excellent water retaining properties and holds 1,000 times its weight in water, keeping skin plump and supple.
Ingredients: 
Water, Sodium Hyaluronate (1% Hyaluronic Acid), Organic Glycerin (from plants), Leuconostoc/Radish Root Ferment Filtrate.
2oz (for backbar use)